During Kooks (formerly Miss Oblivious) tenure in the Rain City ; she has been given access to the unique world of Seattle 's anti-establishment & queer arts. Always with her camera in hand, Kook is just as comfortable participating in the events as she is photographing them, including creating hand-sewn dolls for performances by Circus Contraption, hosting parlor events at The Seattle Cabaret Festival, adorning Bellydance troupes as tarot cards, and crafting curios for The Can Can cabaret. Beyond the photography of events and performances, are her collection individual portraits that seem to capture the true temperament of her eccentric peers.
https://www.etsy.com/listing/215531108/preistessgoddessceremonyshamanic?ref=shop_home_active_29
Galerie Vinsantos 811 Royal Street
(French Quarter New Orleans)
Fridays & Sundays 2-6pm (appointment only)
Appoinment: paynecreations@gmail.com
Available for remote & in person 7 days a week
High Priestess, Root Worker & Healer, Intuitive , Teacher and Ancestor Magic.
I was raised by fierce Hungarian womxn that taught me the ways of the old country and ancestor magic.
My practice started in the mid 80's when i was 14 with the help of my mother and her teachers's. Accompanying her for tarot gatherings, metaphysical workshops and classes. For a short time i would give past life readings to guests when i was 16.
In 2003 i began to fully embrace my relationship with the dead through intimate encounters and telling their stories. I began to focus on the healing to help others through medium ship, cabalistic praxis,intuition, plant life & spirit baths n' remedies . Altar building n tending.
Personally experiencing divorce, loss,death ,parenting & mid life have given me the tools for understanding/helping others to heal and grow to their full potential. I consistently attend workshops to heighten my wisdom & practices.
Currently my work with others is focused on Ancestor Shadows , Unraveling family karma and either mindfully detaching or reconnecting with soul clusters, vocabulary habits that can turn
your life around with a positive outcome "Words Have Power and Cast Spells".
I also help you release energy and patterns that are destructive with a "Canoe Journey" that has helped many detach from toxic relationships.
Working with you to love you, empower & live your life to the fullest.
If you are ready, it takes work but the potentials are endless I am here, you are not alone!
paynecreations@gmail.com
D O L L S
Kook Teflon has been handstitching one of a kind dolls since 2005 and has exhibited across the United States and Canada. She has collectors spanning the globe as far as Japan. For many years she created custom art for Circus Contraption, CanCAn Seattle plus for many queer performance artists. With over 300 custom dolls commissioned through out the years. She is available for Gallery, Cafe and other showings and for custom orders!
Kook would like her buyers to know that she places a eucalyptus nut from 19th century trees planted in the San Francisco estate of former New Orleans resident and civil rights advocate, Mary Ellen Pleasant, in most of her dolls.
https://www.etsy.com/people/paynecreations?ref=hdr_user_menu
Kook & Aaron...
"When asked what events one has proudly participated in over the last five years, most would mutter something about a promotion at work, some sort of commencement at school, or the final payment on some mundane material possession. Kook Teflon, on the other hand, has spent the last twenty years in an uninhibited pursuit of those events in life that permeate one with indignant awe".
Kook (formerly Miss Oblivious) has been documenting her surroundings through photography,words,publishing zines,film,collaborations and other visual arts since 1993.
Beyond the photography of events and performances, are her collection of individual portraits that seem to capture the true temperament of her eccentric peers.
Aaron Campbell (Boogmanson) was born in a cave and raised in the woods of the obscure. He has been a successful tattoo artist for more than 25 years and has traveled all over the globe marking the flesh of many with exquisite ink designs inspired by intricate geometric, esoteric and mind boggling sciences....he also builds death masks for parties and carnival season.
http://www.aaroncampbelltattoos.com/

Since 2014 -
Together Kook and Aaron have filmed and screened three short visually stimulating n dream state films to large crowds in their Seattle Community and they have build visual art doll curios that average 3ft x 2ft.
https://www.patreon.com/kookteflonaaroncampbell
Video below created in 2016 for Babylon Death Party 15

 
P A I N T I N G S & Mojo Bibs
Kookland is a place that is obscure, free and strange! Through acrylic paints n flat surfaces she creates the night trippers that danse in her head and around the dark, swampy carnival land referred to as "Kookland"
Available for commission
https://www.etsy.com/people/paynecreations?ref=hdr_user_menu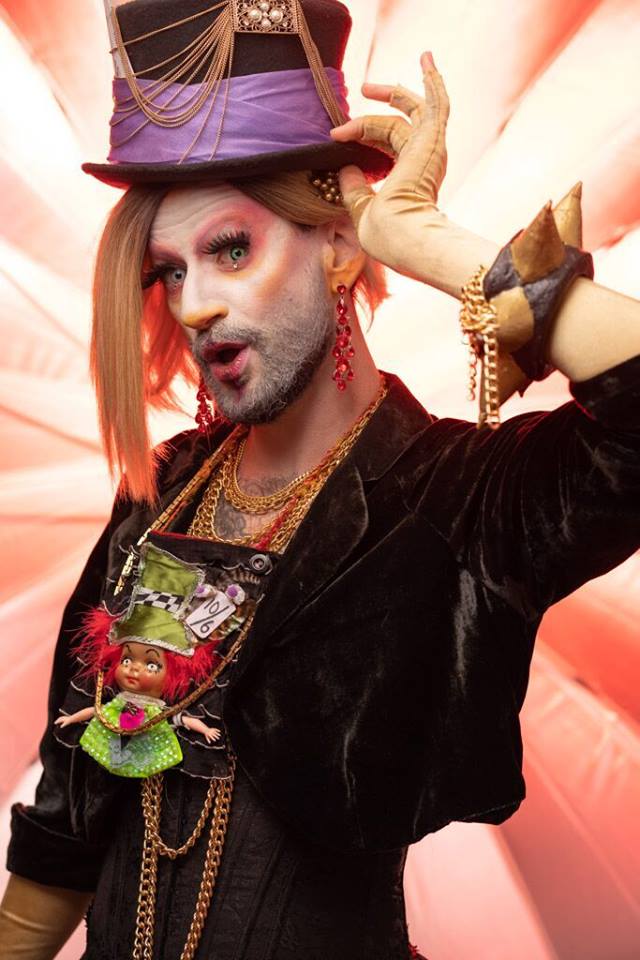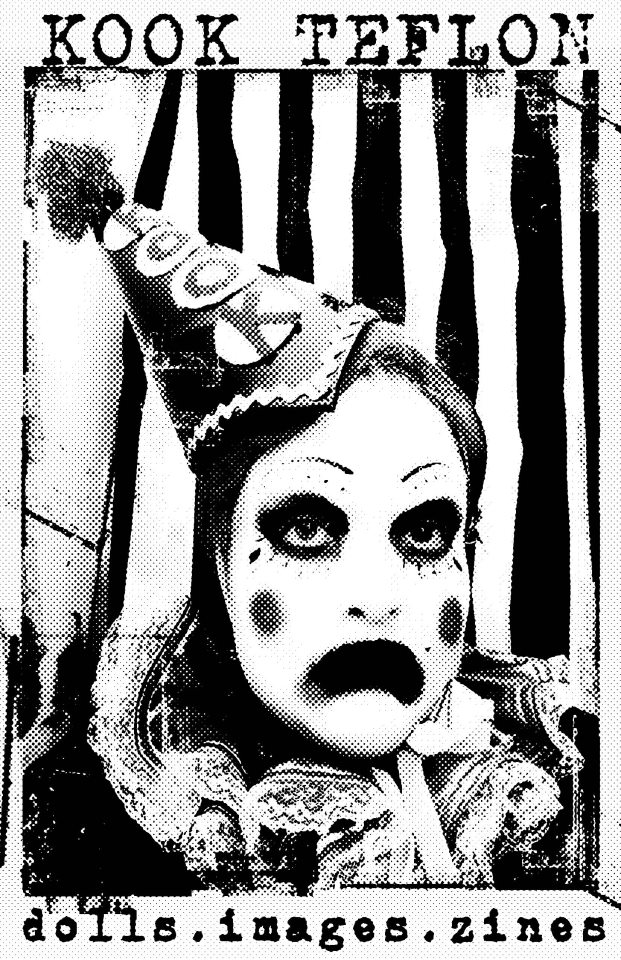 Witches Titties
Kook Teflon had consecutive dreams and demands from other realms to gather the neighborhood witches and create a hoodoo ,riot grrrl ,noise project 2011-2015 based in Seattle Washington they were described as frantic ,garage, no wave witches with heartache
https://www.facebook.com/The-Witches-Titties-326913527329858/
Bio
1991-1994 Earned A.S degree in Graphic Arts from Masters Institute
1994- 1999 "Cunt Fear Zine" documenting the SF queer core scene and publishing zines and distributing them across U.S, Japan,Europe and Canada
1996-HBO's Real Sex (Folosom Street Fair episode)
1998- Runway model for Stormy Leather SF at 1158 Howard Street San Francisco, CA 94103
1999-2003 Founded and fronted the bay area punk band NAG
1999-2010 "Oblivious Nation Zine" published zine documenting peers in art,music,dance,tarot and more
1999-2011 Worked as artists Miss Oblivious
2005-2006 Booker for Caravan Lounge in San Jose, California 2005-present Contributing writer and scene reports for "Punk Globe"
2005- Acted as Extra in "What we do is secret" 2006- Art exhibit at Faux Salon & Gallery 378 East Campbell Avenue Campbell, CA 95008
2006-2007 Participated in two group shows at OK Gallery 212 Alaskan Way S. Seattle, WA 98104
2007 Solo art display of dolls,paintings & photography at Wayward Cafe' 5253 University Way NE, Seattle, WA 98105
2007-2010 directed and produced over 9 short films, videos and documentaries at SCAN TV
2008-Acting role in Botswana mini series by Joriah Goad
2008 and 2009- spoke on art panel at Bellevue College for "Against the Grain"
2006-present The Vortex Room SF booking 3-4 events a year
2006- Displayed art in Los Angeles at Hive Gallery 729 South Spring Street Los Angeles, CA 90014
2006- Dolls diplayed in group exhibit at Monkeyhouse 2874 Rowena Avenue Los Angeles, CA 90039 2006-2009- IHEARTRUMMAGE vender and zine creator to document the artisans and crafters involved
2007-2009 Designed soft sculpture dolls for Circus Contraption events and CD booklet
2007-present Design soft sculpture dolls and merchandise for CanCan Castaways
2007- Displayed dolls with The Tiger Lillies (UK based music trio) in Brooklyn December 13, 14, 15 at St.Annes Warehouse
2007- featured artist on local program "Pajama Talk" episode 7
2008- Art displayed at Cafe Racer5828 Roosevelt Way Seattle, WA 98105
2008-2009 Vender at Dark Avenue a monthly revue at Funhouse 206 5th Avenue North Seattle, WA 98109
2009-2010 ARTCORPS co-instructor with David Crellin film production and editing with school children
2009- Seattle Times Newspaper titled Miss Oblivious as "Official documentarian of the Seattle Cabaret Scene"
2009-2010- co-coordinator of Seattle Int'l Cabaret Festival w/Chris Snell 2009-present Puppet/doll instructor at Ballard Community Center and Artists Craftsman
2010- Group show Popcorn, Blood and Glitter of "Peaches Christ" at Glama Rama 304 Valencia Street San Francisco, CA
2010- January issue featured artists (and cover image) of Sinner Magazine
2009-2010 co-founder of Seattle dark arts events "Mourning Market
2009 photos displayed in group show "Dark Room" 1927 Sophie Wright Place, New Orleans, LA 70130
2009 -dolls particpated in group show at Rhino Contemporary 333 Canal St # 309 New Orleans
2010-2011 Vending at "Skinny Dip" a monthly bellydance revue at High Dive 513 N 36th St # G Seattle, WA 98103
2010-present special collections at Ragin' Daisy (901 Chartres St., 544-5482) exclusive line of Marie Antoinette Tramp dolls and Edgar Allen Poe jewelry
2010- April issue of New Orleans Cue Magazine featured artist
2010 music and film project Orvious in SF "A hole in the rubber"
2010-present created one night events at The Allways Lounge 2240 Saint Claude Avenue New Orleans, LA 70117
2010- Created,booked and managed "Female Front" eight live shows in Seattle,SF,Oakland,Sacramento and Sacrament(25 acts including Ruby Ray,Dame Darcy,Jackie Hell and many others)
2010-2011 "Carnival of Saints" group exhibit Poets Gallery 3113 Magazine St. New Orleans, LA 70115 (including 13 of the United States best doll sculptures such as Liz McGrath,Dame Darcy, Christy Kane +)
2010 Solo show "Gawds of the Orient" at Deity for the Arts 830 N Rampart St New Orleans, LA 70130
2011-current Created and curated event "Babylon Death Party"
2011- Fifteen year retrospect of work in zines,film,dolls and imagery displayed in windows at 1038 Guerrero San Francisco,Ca 2011-Glama Rama art exhibit with Vinsantos "Creature"304 Valencia Street San Francisco, CA 94103
2011-present working as Kook Teflon 2011- Publishing zine with six other feminists "Teflon Sisters" 2011-curated exhibit "Transcentric" in Los Angeles with featured artists Austin Young,Tennessee Loveless,Vinsantos,Lee Kyle, Adam Ansell, JerBer Jones, Sheri DeBow, Squeaky Blonde
2011- Featured artist at Metro "This is me~ Drag n' dolls 550 S. First Street, San Jose, CA 95113 2011- Featured artists in July issue of MetroActive weekly entertainment magazine
2011- Liaison for Vockah Redu 2011- Five year photo exhibit "1,825 days in Seattle) curated by DAMEBUILDER at Freds Wildlife Refuge 127 e.Boylston Seattle
2011- "Gum" art show with Lee Kyle,Sherry Lynn Dooley: Deity Arts 2001 Magazine St., New Orleans
2012- Trio show Lee Kyle,Vinsantos "Seedy Folks" at St Claude Coffee 2709 St Claude Ave New Orleans, LA 70117
2012- "Cult Caves" solo exhibit Baba Louise 616 Northwest 65th Street Seattle, WA 98117
2012 founded musical noise band "The Witches Titties"
2012 "Cult Cave" publisher 2012- "Dollirium Show" London Ontario
2012- "Doll Tales" Oakland, Ca
2012- "Freaksheux to Geaux" vender New Orleans
2012- "Cult CAve 1" featured artist Baba Louise Seattle
2012- "Cult Cave 2" featured artist Twilight GAllery Seattle 2012- " The Witches Titties" founder/frontperson performance art noise band
2013- "Babylon Deathe Party" 5x's founder of live event focusing on music,dance,film,tarot
2013- "Bloodbath Doll exhibit" featured artist SF
2013- "Burial" model for Mark Mitchell fashion exhibit Frye Museum
2013- "Dead Bed" butoh performance TK art lofts Seattle
2013-"ArtZone" guest with Nancy Guppy SEattle Channel
2013- "WT west coast tour" booked and performed 8 shows
2013- "WT" live on Hollow Earth Radio 2013- "Dolls of psychopomp" curated Twilight Gallery Seattle
2013- "WT" play with RuPaul drag winners and many other local personas
2013- " dillusion emporium" featured artist SecondTimeAround Seattle
2013- "Eerie Golgothia" curated Green Eyed Gator New Orleans
2013- " Eerie Golgothia" featured in Huffington Post
2014- "A prance in the Dark"curated art w/Chris DiBacco Spooked in Seattle
2014- "Hoodoo Mass" co-produced w/Kiyan Fox Seattle
2014- "Femelle de Occultes" curated film,art,performance ( plus directed 17 minute film w/ Aaron Campbell)
2014- "Haus of VeVe" featured artist La Madame Bazarre/Rag'nDaisy New Orleans
2014- Taught 3x's Spirit Doll Classes at Edge of the Circle Seattle
2014- Starred in Criambique Video 2014- BlackBird Co. Soapmaker
2015- "effigies" curator True Love Seattle
2015- "Ingorsoll"at Gender Center art exhibit
2015- "Ravena Ravine" Court witch
2015- "Emerge" live painitng atist for evening Seattle
2015- "Queer Planet" group show at The Inn Seattle
2015- commisioned to produce and create video for "Vox V'
2015- "sessions of She" featured artist and interview Seattle
2015- " Heart on Artist" CAbaret MAsacre Vendor
2015- '"Baylon Death Party" x's 4 Seattle & New Orleans
2015- "Trinity films screened in Seattle 2015- "WT" organized recording session and video Columbia City Theater Seattle
2015 "WT" featured on KEXP
2015 "WT" play Georgetown Carnival and open for many legendary acts throughout year
2015 "Babylon Death Party" Psychomachia
2015- "Batik" workshop w/Nicholas Sironca
2015- " Palm Reading workshop w/Jim Barker
2011- "MArket Ghosts" tour guide and dark history guide
2016- "Children of Fatima" producer Columbia City Theater
2016- "She Bleeds for Me" artists contributor
2016- "Heavy Circles" Seattle
2016- current " Second Saturday Art Sale " co-organizer
2016- "Sessions of she" door diva